Today you have
two
opportunities to help those less fortunate in our world. One way will cost you nothing but time, while the other will require that you dig a little deep into your pockets.
1. Feed the hungry and feed your brain!
FreeRice.com
will donate 10 grains of rice for each word you get correct in the online vocabulary challenge. ("WARNING: This game may make you smarter. It may improve your speaking, writing, thinking, grades, job performance...") Rice is distributed by the United Nations World Food Program (WFP), the world's largest food aid agency, working with over 1,000 other organizations in over 75 countries. In addition to providing food, the World Food Program helps hungry people to become self-reliant so that they escape hunger for good. Visit the
United Nations World Food Program
to learn more about their successful approach to ending hunger.
2. The
One Laptop Per Child (OLPC)
's "Give One Get One" program starts in the U.S. and Canada today (Nov. 12), and ends on Dec. 31st.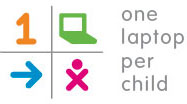 During this time, for a donation of $399, you can donate the revolutionary XO laptop to a child in a developing nation, and also receive one for the child in your life (or the child in you) in recognition of your contribution. $200 of your donation is tax-deductible (your $399 donation minus the fair market value of the XO laptop you will be receiving). For all U.S. donors who participate in the Give One Get One program,
T-Mobile is offering one year of complimentary HotSpot access.
Wifi "HotSpot" access can be used with any Wi-Fi-enabled device, such as your laptop computer or a Wi-Fi-enabled mobile phone.